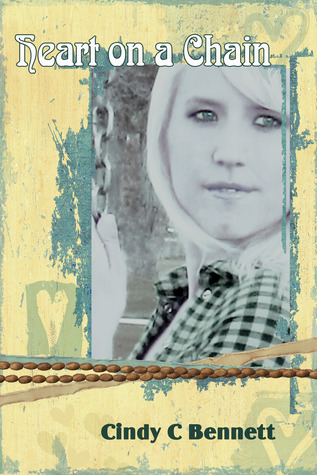 Full disclosure: I was not paid for this review, nor did I receive a free copy of the book in exchange for a review. I receive no compensation for anyone purchasing the book from the above links. Basically, I am just reviewing this book because I liked the book :)
In my quest to read more self-published books, I clicked up (like picked up, but for digital books) a copy of Heart on a Chain by indie author Cindy C Bennett. This is a high-rated indie book on Goodreads, and after reading it I see why! In my experience, this indie book reads closest to a traditionally published book.
First, the blurb:
17-year-old Kate has lived her whole life in abject poverty, with an alcoholic father and drug-addicted mother, who severely abuses Kate. At school, her second-hand clothing marks her as a target. Her refusal to stand up for herself makes her the recipient of her classmate's taunts and bullying. That is, until Henry returns.
Henry Jamison moved away six years earlier, just as he and Kate had begun to develop feelings for one another. He returns to find the bright, funny, outgoing girl he had known now timidly hiding in corners, barely speaking to anyone around her, suspicious of even him.
Kate can't figure out what game Henry is playing with her - for surely it is a game. What else would the gorgeous, popular boy from her past want with her?
Kate finally decides to trust Henry's intentions, opening her heart to him. Just when it seems he might be genuine in his friendship, tragedy strikes, threatening everything Kate has worked so hard to gain. Can Henry help her to overcome this new devastation, or will it tear them apart forever?
What I loved:
The characters are likable, Henry is wonderful and his family is a great picture of a happy/healthy/stable family. You feel a sense of warmth when you read about them, and after reading from Kate's perspective, you can totally see the appeal.
Kate's abuse at home is very realistic. There is that sense of walking on pins and needles, not knowing what will set off the abuser.
The symbolism of the swing set is also nice and used well throughout. Symbolism is something I find often lacking in indie books, so it was nice to read it here.
What wasn't my fave:
The abuse the character receives at school is unrealistic to me. She's in high school but the students still bully her like it's elementary school. In my experience, the unpopular wallflower kids (especially girls) do not usually get horribly bullied and physically attacked on the regular in high school. It's more likely to be the people that are seen as a threat to the mean girls. In the end, the author tried to pull it together, saying mean girl did see Kate as a threat because she's pretty, but she was so beaten and down I think the mean girl would have moved on. But again, just my experience. I am not at all saying this doesn't happen, just the extent and the history of the student growing up with those kids…something about it just didn't sit right.
A few scenes in the middle I sense would have been cut if the book was traditionally edited, as they don't necessarily drive the plot, but I actually enjoy this about indie reads. I like getting to know the characters better by a trip to the corn maze! :)
Overall:
this was a really good read, and I appreciated getting to read about a different experience of abuse, as it's a theme in one of my books as well. I give Heart on a Chain 4 swings out of 5.
I would recommend Heart on a chain to anyone who likes YA/NA fiction with clean romance and a happy-ish ending. Not everything works out perfectly for the MC, which I also find believable, and she isn't magically rescued by her rich boyfriend.
Check out my other book reviews: