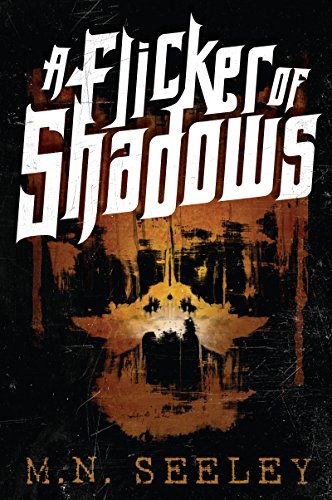 Full Disclosure: I received a free copy of this book in exchange for honest feedback. In fact, M.N. Seeley was adamant I not sugar coat my review :)

First things first, this book is NOT my typical genre, but it's a self-published book with an intriguing plot. As you may know, one of my goals this year is to support more self-published authors by reading more indie! This book is a literary suspense, heavy on the literary style! It has psychological mystery elements, making it appealing to many readers of the literary genre. The writing is beautiful, and it's a slow-burn style; quite a long read.
Here's the official summary:
In 1890, a remote mountain castle in eastern Europe is host to two conflicting realities. In one reality, a Police Inspector and a lunatic approach a crime scene from opposing ends. In the other, a bat has succumbed to delusions of grandeur and plans a life beyond the bounds of his supernatural world. When the bat claims the abandoned mountain castle for himself, he sets the two realities onto a collision course. Within that impact, a creature is forged and unleashed upon the mountain communities. Not only are lives at risk, but so too is the light of childhood innocence within the minds of the Inspector (Murnau), the Lunatic (Onno) and the Bat (Morton). Their understanding of reality will be irrevocably corrupted among the flickering shadows cast by the castle creature.
Told in the epistolary format of letters, journal entries and interview transcripts, A Flicker Of Shadows is a psychological mystery with a slow burn. It is written to appeal to New Adult and Adult audiences by purposely mashing what appears to be a children's story with an adult tale of folklore monsters and classic horror beats. But, do not let that fool you. This is not a story for children; it is a tragic story for adults that once were.
At first, I was unsure about reading a book written entirely in the form of letters and journal entries, but the writing is very gripping; you still lose yourself in the rich storytelling and well-painted descriptions. My favourite character has to be Morton (The Bat). He is hilariously pretentious and condescending. He has some quotes that had me actually laughing out loud (I won't use the acronym…it's lost all meaning). My favourite has to be:
"Surprisingly, our talk was not as one sided as would be expected from a urine-soaked flea purse" - Morton
The story is complex and interesting, but admittedly a bit long-winded for my tastes. Again, I think this relates to the fact I don't read much literary fiction. The mystery is interesting and leaves you wondering about reality vs imagination of the tellers.

Overall, this is some of the most beautiful writing I have read. Definitely a slow-burn type of story, very rich in detail and character development.
Rating: 5 stars for the writing, 4 stars for the story

I would DEFINITELY recommend this to anyone who enjoys literary fiction. Check it out on Amazon

Do you have any book recommendations for me? Let me know on twitter, facebook, or below
-Alison